Pledge to Honor Gold Star Families
10,147 signatures toward our 50,000 Goal
Sponsor: The Veterans Site
Gold Star families deserve our respect and support. Sign the pledge and show you care!
---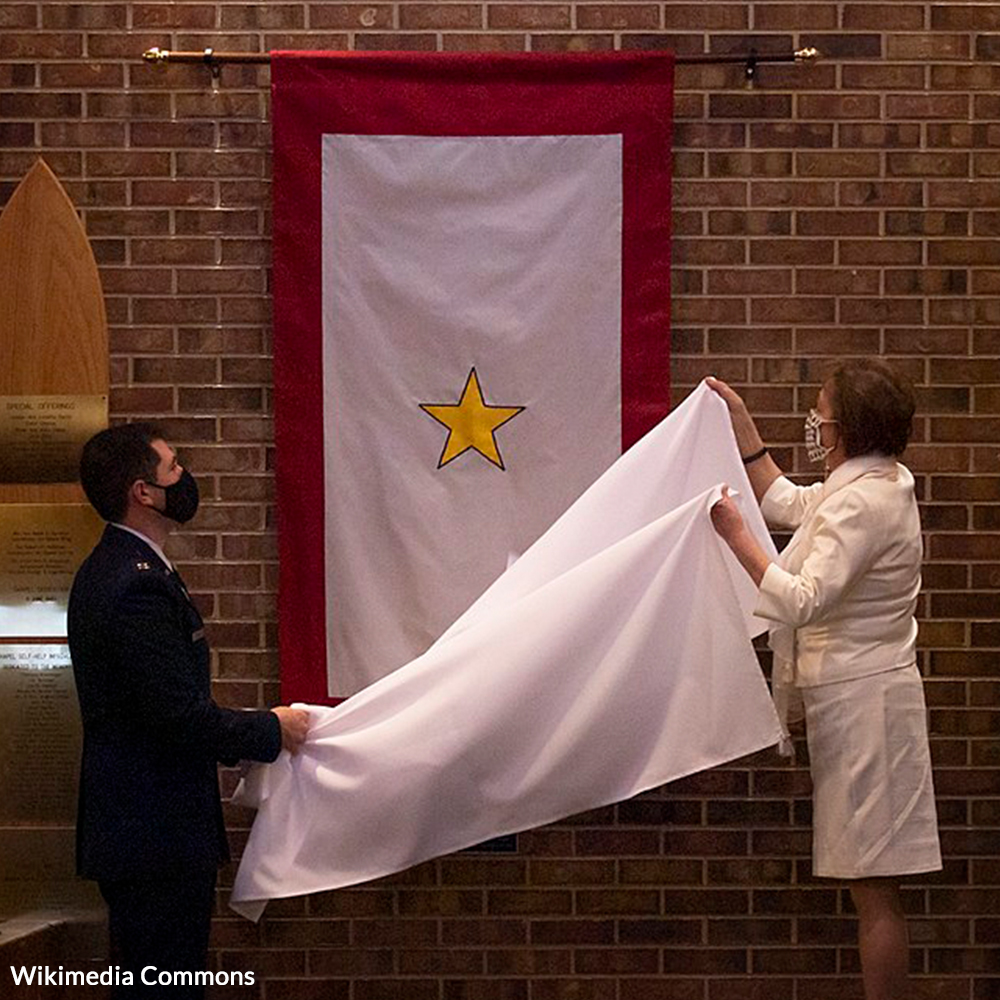 During WWI, President Wilson authorized a suggestion made by the Women's Committee of the Council of National Defenses, that mothers who had lost a child who served in the war could wear a traditional black mourning armband with a gold gilt star in 1918. This approval led to the tradition of a gold star covering the blue star on the Service flag to show that the service member had passed. It's believed Wilson coined the term "Gold Star Mother1."
The term Gold Star family is a modern reference that comes from the Service Flag. These flags/banners were first flown by families during World War I, and included a blue star for every immediate family member serving in the armed forces of the United States, during any period of war or hostilities in which the armed forces of the United States were engaged. If that loved one died, the blue star was replaced by a gold star. This allowed members of the community to know the price that the family had paid in the cause of freedom2.
As the U.S. became involved in other global conflicts, particularly WWII, new organizations and ways to honor Gold Star Family members appeared as the number of grieving military families rose3.
Even though only 1% of the U.S. population serves in the military today, versus the 12% that served during WWII — there are more living Gold Star Families than you might think4.
Since 9/11, more than 16,000 troops have died in non-combat circumstances and 7,000 died in the Iraq and Afghanistan wars alone. There are also thousands of living Gold Star Family members who lost loved ones in WWI, WWII, the Korean War, the Vietnam War and other conflicts throughout the 20th and 21st centuries5.
Service members don't serve alone. In 2015, there was a reported total of 1,728,710 family members who served alongside their Active Duty service member. Of that number, there were 1,076,803 children and 641,639 spouses1.
It is an obligation of all Americans to support those who have sacrificed so much in the name of freedom. Sign the pledge below and show your support for Gold Star families!
To Top
The Pledge:
I pledge to support Gold Star families in my community by remembering and honoring the fallen heroes these families have lost.
I pledge to recognize Gold Star Mother's and Family Day in September.
And I pledge to recognize Gold Star Spouses Day in April.
Most importantly, I pledge to offer honor, hope and healing to those grieving any military loss.
Pledged by,