Stop the Fee Hikes on Veterans' Healthcare!
9,238 signatures toward our 20,000 Goal
Sponsor: The Veterans Site
Don't allow the Department of Defense to raise fees on veterans' healthcare!
---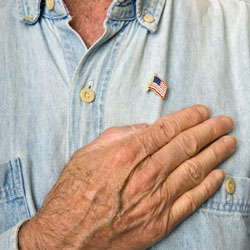 In an attempt to quell government spending, the Department of Defense is trying to raise health care coverage fees for military retirees. Though the urgency of the current economic climate requires cuts to spending, veterans' healthcare isn't wasteful and shouldn't be up for debate.
Senator Patty Murray, Chairman of the Senate Veterans' Affairs Committee, has denounced these fee increases, saying, "Affordable health care is an essential part of the promise we make to those who sign up to serve and one we have to keep in good times and in bad."
And Senator Murray is right. It's our obligation to care for those who have fought for our country. Veterans' healthcare simply isn't an area in which anyone can justify eliminating budget allocations.
Sign the petition to keep healthcare funding within the hands of those who need it — America's veterans!
To Top
The Petition:
Dear Secretary:
Fee increases would mean many military retirees could be largely responsible for their own health care costs.
Those who have sacrificed their lives to defend our country deserve to be treated with the utmost of appreciation when they return. Forcing them to pay out of pocket for essential healthcare is unacceptable.
You must find other ways to reduce government spending. Taking away the care our veterans are entitled to is ridiculous.
I will continue to fight on behalf of our veterans until you provide them with the care they have earned.
Sincerely,
To Top
Updates:
On November 24th, 2014, Chuck Hagel stepped down as the US Secretary of Defense. While we await the nomination and approval of his replacement, we must continue to support this important cause. Please continue to sign and share this petition. We'll be sure to address it to the new Secretary as soon as they are chosen.