Don't Allow The Debt Crisis To Affect Our Vets
Final signature count: 4,789
Sponsor: The Veterans Site
Tell Congress to keep cutting veterans' funding off the table during financial negotiations.
---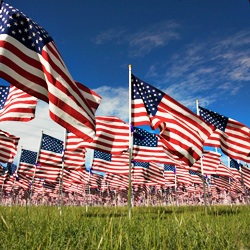 "No matter what fiscal crisis we face, no matter how divided we may be over approaches to cutting our debt and deficit, no matter how heated the rhetoric here in Washington D.C. gets, we have to keep our commitments to our veterans and service members," Chairman of the Senate Veterans' Affairs Committee Patty Murray said in a speech to the Senate.
Chairman Murray is right. With all of the financial uncertainty occurring within our government, it's important that we don't allow the confusion and dissent among parties negatively affect funding for veterans' care.
As Congress continues to debate how to allocate finances and where to cut funding, Congress members must keep in mind the dedicated service our veterans have demonstrated. While we may need to reexamine where we are spending our money as a country, we need to also ensure veterans don't suffer.
Sign the petition telling Congress to keep Veterans' care funding off the table!
To Top
The Petition:
Dear Congress,
As you continue to work diligently on a solution to America's financial woes, I ask that you keep in mind the time and dedication our service members have given of themselves.
While I understand the need to cut spending in many areas, Veterans' care shouldn't be an option. Those serving or who have served in the armed forces should be taken care of, regardless of the difficulties our country is facing.
Please make sure that veterans care isn't affected by the debt crisis.
Thank you.